What to do if you've got friends and family who've never met one another at your wedding? Here are some top-searched questions on Google: How can I make my wedding funny? What to do to entertain guests at a wedding? What games are played at a wedding?
In addition to a delicious feast, flowing drinks and a fantastic wedding playlist, some couples also like to get the party started with wedding reception games in order to liven up the atmosphere as well as impress the guests. We've rounded up the 10 of the best games and activities fit for a wedding reception that guests of all ages will enjoy.
Wedding Lawn Game
Enjoy the beautiful weather and stunning outdoor wedding venue by starting with some fun wedding lawn games. Setting up yard games for weddings can be fun for couples or groups, and can add a bit of personality to your décor, be it garden, vintage and rustic.
Giant Jenga
Like traditional Jenga, but use bigger blocks. Guests take turns removing one block at a time from a tower constructed of 54 blocks. Each block removed is then placed on top of the tower, creating a progressively more unstable structure.
Cornhole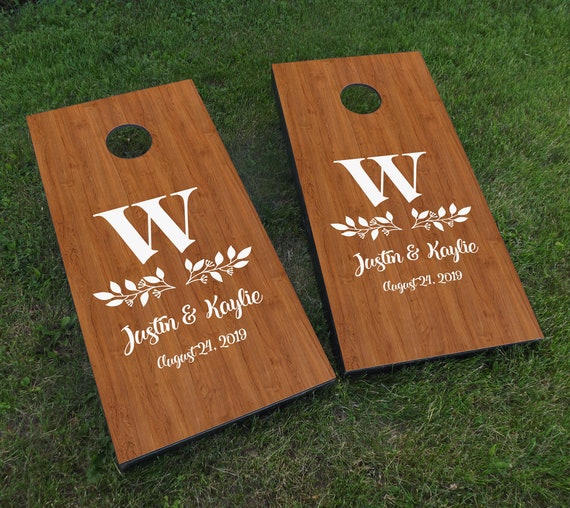 Cornhole is a lawn game in which players take turns throwing 16 ounce fabric bean bags at a raised board with a hole in the far end. A bag in the hole scores 3 points, while one on the board scores 1 point. Play continues until a team or player reaches or exceeds the score of 21. The couple can customize the board with your name or wedding date and the bag with your favourite style.
Connect Four
This giant version of a classic game is sure to entertain adults and kids alike.
Croquet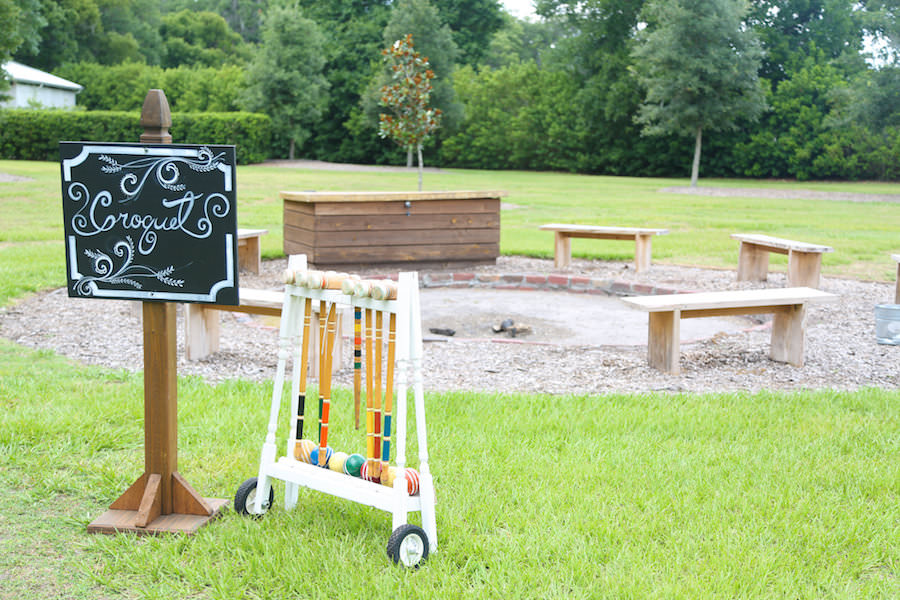 Croquet is a great lawn game for a garden-themed wedding, backyard wedding, or any event venue with a sprawling, lush green lawn.
Bocce Ball
Guests take turns trying to roll their bocce balls towards a smaller target ball. The closest to the target wins. It can be played by two players, or two teams—making it ideal for a group of guests to gather and compete.
Wedding Table Games
When the guests are seated for dinner, there can be a lot of time before the food is served or before tables are called to the buffet. To avoid awkward moments at your wedding, provide games and activities to keep your guests entertained. This will help them get to know each other and have a great time.
Mad Libs
Want marriage and love advice from your family and friends? Create a Mad Libs style template for guests to fill out at their table. It is a great way to get everyone talking and laughing, and it will be a special treat for you to read it together later. Alternatively, You can have the emcee read some of the funniest answers from the reception to give everyone a good laugh.
Dare
Get your shy guests out of their shells with daring challenges just for them! Help others have a blast by including fun dare options at each table. But remember who will be sitting at the tables when you are preparing the dares. Some ideas for fun during your meal include: taking a selfie with the cutest guy at your table, kissing the person next to you, or taking a shot with someone you don't know.
Wedding Reception Group Game
Finally, when you want to get the entire group involved at your reception, consider hosting wedding games to keep everyone entertained.
The Shoe Game
This is one of our favorite games to play at wedding parties The newlyweds sit in front of their guests, sitting back to back. Each person has one of their shoes and one of their partner's shoes. The emcee will ask the couple a series of questions about their relationship. The couple will have to answer these questions by holding up the shoe that corresponds with their answer. Some funny questions to get your guests laughing might be a good idea.
Who made the first move?
Who said I love you first?
Who is the better cook?
Who has better dress sense?
Who is more likely to be running late?
Who is more romantic?
Who is the better driver?
Who cracks the best jokes?
Who hogs the blankets more?
Who has the cleaner car?
Who plans the best dates?
Who wears the pants in the relationship?
Wedding wheel
To make guests feel welcome and engaged, create a custom wheel of activities that can be spun throughout the reception. This will keep everyone entertained! This creative option includes details such as "Choose a couple to kiss", "Show us your best dance moves" and the classic "Bride and Groom Kiss"
Wedding Guest Bingo
 Want to encourage mingling among your guests? Another wedding game ice breaker is Bingo. In this version, guests have to take their card around to the other guests to find someone who can claim "That's Me!" given the clue provided and then make it official by writing in their initials. When creating the cards, try to avoid being too generic with descriptions and think about unique clues to describe your guests. Here are some ideas:
Wear something blue
Instruments played
Tattoos
Sports fan
Love to bake
These reception games are sure to be crowd-pleasers at any wedding. Use these simple ideas to entertain your loved ones, encourage them to meet new people, and put a unique twist on your celebrations!